Do your gloves always end up soaked after a day out in the rain? Are they constantly damp and cold, making it difficult to keep your hands warm? If so, you need Nikwax Glove Proof. This handy waterproofing solution can help make your gloves resistant to both water and dirt, keeping them dry and functioning properly no matter what the weather throws at you. In this article, we will answer some of the most common questions about Nikwax Glove Proof, as well as provide a full product review. So whether you're looking to keep your current gloves waterproofed or are in the market for a new pair, read on for all the information you need!
Nikwax Glove Proof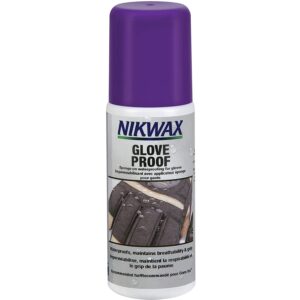 This removes contaminants, dirt and everyday grime that masks the water-repellent coatings on waterproof items. All water repellent finishes work at their best if the garments are kept clean.
Nikwax Glove Proof User Manual
Having problem? Download Nikwax Glove Proof instructions.
---
---
What is Nikwax Glove Proof?
Whether you love skiing or are a gardener who can't stand having cold, wet hands, you know how important it is to have a good pair of gloves. But no matter how well made your gloves are, they're going to get wet eventually.
Gloves have always been a tricky item of clothing to keep waterproof because they are often made from leather or another natural material that is not inherently waterproof. Even GoreTex gloves, which are made from a waterproof and breathable fabric, can eventually lose their waterproofing capabilities. Nikwax Glove Proof is a product that can help you keep your gloves waterproof and in good condition for longer.
It works by creating an invisible barrier on the surface of the fabric that repels water while still allowing the glove to breathe. This means that your hands will stay dry even if you're working in wet conditions or if your gloves get wet from snow or rain.
The Nikwax website claims that their product is safe to use on all kinds of gloves, including GoreTex, leather, and synthetic. Leather is especially hard to treat for waterproofing, it's very absorbent and can be easily damaged if you pick the wrong method. Nikwax won't hurt the insulation in your gloves, so you don't have to worry about that either.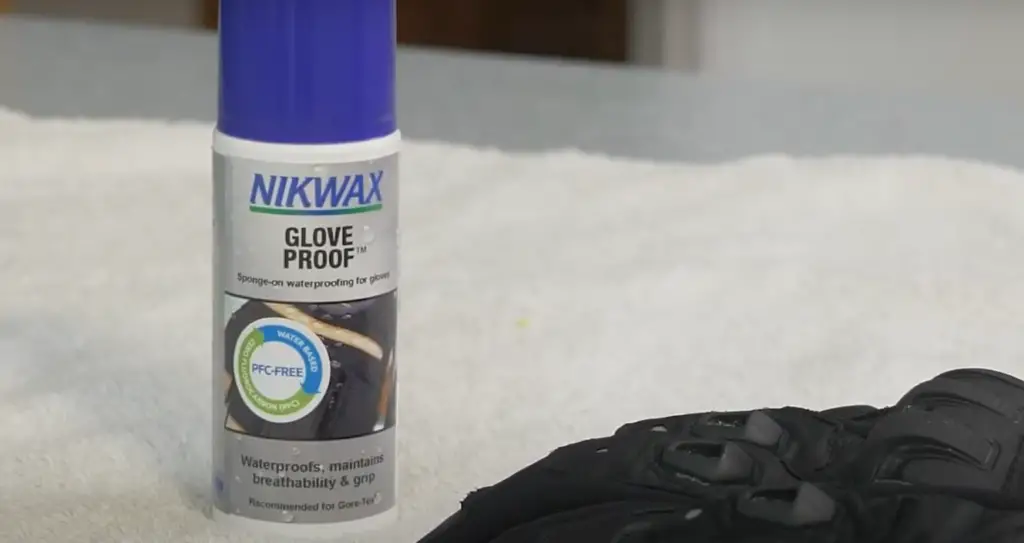 One thing to keep in mind is that Nikwax Glove Proof is not a permanent solution. It will eventually wear off and you'll need to reapply it if you want to keep your gloves waterproof. However, it's much easier than trying to waterproof your gloves by waxing them and exposing them to heat. [1]
How to Apply Nikwax Glove Proof
Now that you know what Nikwax Glove Proof is and what it does, let's talk about how to apply it.
Clean your gloves prior to waterproofing them
Before you start waterproofing your gloves, you need to make sure they're clean. Otherwise, you run the risk of trapping dirt and grime inside the pores of the fabric, which will eventually lead to them breaking down.
The easiest way to clean your gloves is to hand wash them in a mild soap and water solution. Make sure to clean all the residue soap off afterwards, as this can interfere with the process. Once they're clean, move on to the next step. There's no need to dry your gloves as waterproof treatment will work the best when the fabric is damp.[1]
Nikwax official website also recommends machine washing gloves with Nikwax Tech Wash prior to waterproofing for the best results. Tech Wash is a gentle cleaning product that removes dirt and contaminants without damaging the fabric of your gloves.
This will safely remove any surface dirt and grime.
Of course, if the care label advises against machine washing then you'll need to clean your gloves by hand.
Apply the agent evenly
Nikwax Glove Proof comes with a sponge applicator that is used to apply the agent to your gloves without having the user wear protective gear. But first, it's important to shake the bottle well before using it.
Once you've shaken the bottle, press on the sponge applicator to break its seal. Then, starting at the cuff of the glove, apply the Nikwax evenly across the surface of the fabric. Make sure to get into all the nooks and crannies, especially around the fingers where water is most likely to enter. Pay the utmost attention to the stitching as well, because this is where most gloves tend to leak.
After you properly cover the entire glove in the agent, leave it to rest for at least five minutes to give the Nikwax time to penetrate the fabric.
Wipe the excesses with a cloth
The final step is to wipe the excesses with a clean, damp cloth. This will help remove any Nikwax that hasn't been absorbed by the fabric and ensure that your gloves don't end up looking shiny or feeling stiff. Gently wipe the moisture away, and you're done!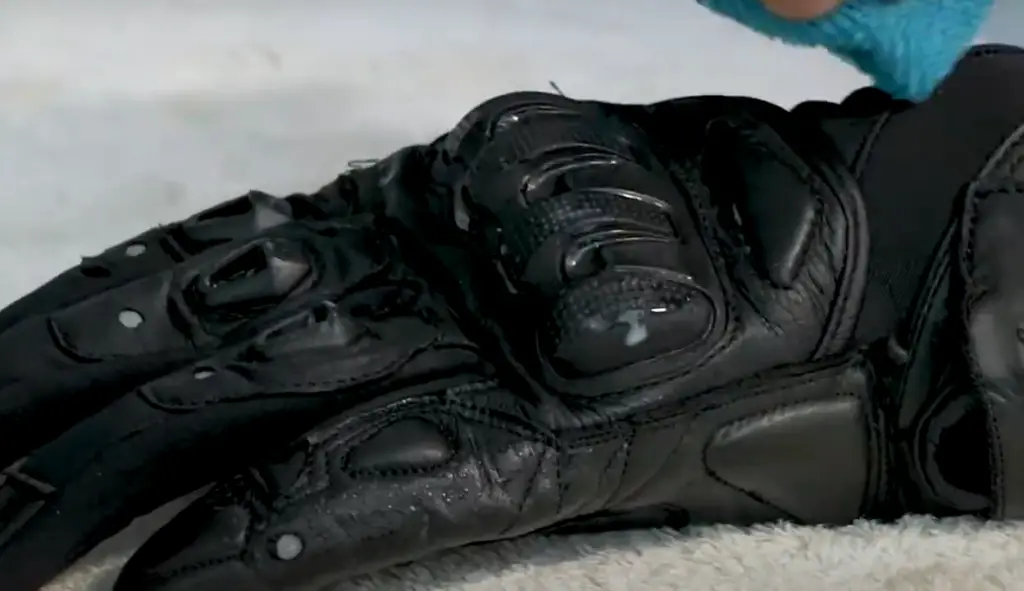 If you follow these simple steps, you'll be able to waterproof your gloves and extend their lifespan. [1]
Features of Nikwax Glove Proof
Now that you know how to apply Nikwax Glove Proof, let's talk about some of its features in detail.
It's compatible with both leather and fabric gloves
One of the great things about Nikwax Glove Proof is that it can be used on both leather and fabric gloves. So you can use it on your favorite pair of leather driving gloves, as well as your go-to pair of fabric work gloves.
Nikwax Glove Proof is also safe to use on Gore-Tex and other waterproof membranes. This means that you can use it to waterproof your gloves without worry about damaging them.
This agent is biodegradable and non-hazardous, which is always a plus, especially if you are an environment-conscious user.
It maintains the grip
One of the main concerns people have with waterproofing their gloves is that it will make them lose their grip. Nikwax Glove Proof actually does the opposite by maintaining the glove's existing grip. This is thanks to the fact that it's a water-based formula, which means it doesn't leave behind any residue. As a result, you'll be able to grip objects easily.
For this reason, Nikwax Glove Proof is perfect for ski gloves, as you'll still be able to grip your poles tightly. It's also great for work gloves, as you won't have to worry about losing your grip on tools or materials.
It helps gloves to repel water
Obviously, one of the main benefits of Nikwax Glove Proof is that it helps to repel water better. This is thanks to the fact that it creates a durable water repellent (DWR) finish on your gloves. This means that your gloves will be better able to withstand rain, snow, and sleet. And if you happen to get caught in a downpour, you can rest assured knowing that your gloves will still be protected.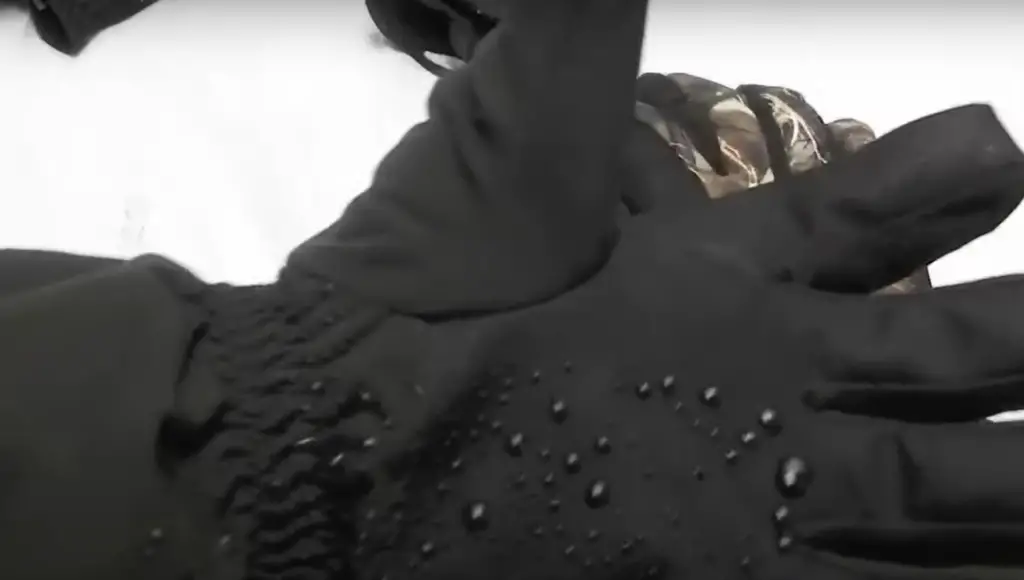 Nikwax Glove Proof is also great for protecting against water stains. So if you're worried about getting your gloves dirty, this product is definitely worth considering.
Another benefit of this feature is that it increases the lifespan of your gloves. By keeping your hands dry, Nikwax Glove Proof prevents the fabric from degradation due to moisture. In other words, your gloves will last longer if you use this waterproofing solution regularly.
It maintains the breathability of gloves
Waterproofing products have a reputation for making gloves less breathable. But Nikwax Glove Proof is different, as it's specifically designed to maintain the breathability of your gloves, thanks to its structure that doesn't contain any solvents. This will ensure that your hands won't get sweaty and uncomfortable while wearing waterproof gloves.
This is especially useful for working gloves, as you'll be able to stay warm without getting your hands too sweaty during your job.
It replaces a conditioner for leather gloves
Nikwax Glove Proof can actually be used as a conditioner for your leather gloves by replacing the tanning oils that are lost over time
. This is thanks to the fact that it contains natural conditioner for leather.
By using Nikwax Glove Proof on your leather gloves, you'll be able to ensure that they stay soft and supple. You'll also be able to extend their lifespan by preventing them from drying out and cracking. [1] ,[2]
What to Keep in Mind Before Buying
As you can see, there are plenty of reasons to buy Nikwax Glove Proof. But before you add it to your cart, there are a few things you should keep in mind.
It doesn't last long under the constant exposure to water
One thing to consider before finalizing your purchase is that Nikwax Glove Proof may not last long under constant exposure to water. And because you will need to reapply these more often, it will obviously cost more in the long run. So if you're planning on using your gloves in a wet environment, you'll need to reapply the waterproofing solution regularly.
This isn't necessarily a bad thing, as it just means that you'll need to be more diligent about waterproofing your gloves. But it's something to keep in mind before buying this product.
It leaves an unpleasant odor
When you first apply Nikwax Glove Proof, you may notice an odor that may be similar to burned rubber or vinegar. The good news is that the odor is safe, since Nikwax Glove Proof contains no fluorocarbons. And the odor will dissipate in less than a day.
If you're particularly sensitive to smells, you may want to apply the waterproofing solution in a well-ventilated area. But overall, the smell shouldn't be too strong or bothersome. And once the odor dissipates, you'll be left with a pair of gloves that are better protected against water.
It is hard to apply
One issue you may have with this product is that it's hard to apply. Nikwax Glove Proof comes with a special sponge applicator. But the applicator is inconvenient as a very small amount of agent is dispensed by each stroke.[2]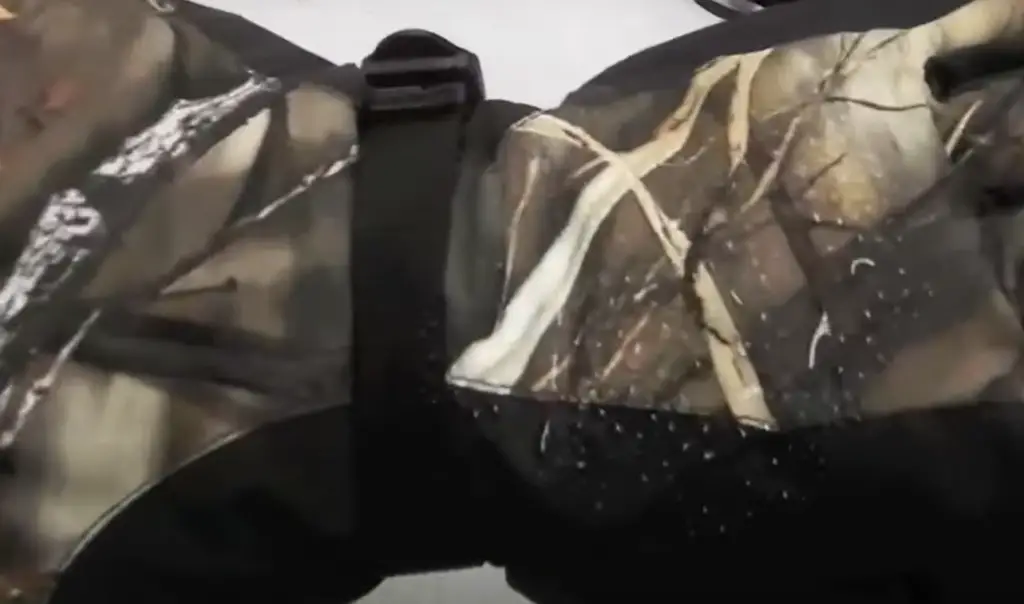 This means that it takes a while to apply Nikwax Glove Proof evenly to your gloves, so it can be difficult to reach all areas of your gloves. And if you're not careful, you may end up with an uneven application. It would be much more convenient if Nikwax Glove Proof came in a spray bottle. But unfortunately, the applicator is the only way to apply this waterproofing solution.
Despite these few drawbacks, Nikwax Glove Proof is still an excellent waterproofing solution for gloves.
---
FAQ
Is Nikwax Glove Proof effective?
Yes, Nikwax Glove Proof is an effective water-repelling solution to gloves. The product is safe to use, and it will help keep your gloves in good condition for a long time. You also won't need to worry about the palms getting all slippery since it doesn't affect the grip of your gloves at all.
Nikwax Glove Proof can be used on all types of gloves, including leather, synthetic, and fabric. It is important to follow the instructions on the Nikwax Glove Proof bottle to ensure that you are using the product correctly.
How often should you apply Nikwax Glove Proof?
This will depend on how often you use your gloves and in what conditions. If you are using your gloves regularly in wet weather, then you will need to reapply Nikwax Glove Proof more often than if you only occasionally get them wet. Otherwise, you can just apply it as needed. We recommend that you always follow the care instructions on the glove label.
Nikwax Glove Proof washes off quicker than other waterproofing treatments, so if you are skiing daily, you may need to treat your gloves after each trip.
Can you waterproof leather gloves with Nikwax Glove Proof?
Yes, Nikwax Glove Proof can be used on both leather and textile gloves. It will not only create a hydrophobic barrier on the surface of the glove, but will also provide the same effects as conditioning your leather does – making it more supple, and less prone to cracking.
You should reapply Nikwax Glove Proof every few months, or as needed, in order to maintain optimal water resistance. If you find that your gloves are no longer repelling water after treatment with Nikwax Glove Proof, it is likely that the product
Related Video: Nikwax Glove Proof Application & Water Test
Conclusion
All in all, we think that Nikwax Glove Proof is a great product for anyone looking to waterproof their gloves. This product creates a waterproof barrier on your gloves, helping to protect them from the elements. It also prolongs the life of all leather and fabric gloves, keeping them looking and performing their best, including the grip on the palms.
This product also maintains breathability, so you can stay comfortable no matter what conditions you're facing.
Just be sure to keep in mind that it doesn't last long in extreme conditions and that the sponge applicator makes it hard to apply the agent evenly. Other than that, if you're looking for a reliable and effective waterproofing solution for your gloves, then this agent is definitely worth trying out. Thanks for reading!
---
References:
https://www.nikwax.com/en-us/products/glove-proof/
https://www.gooutdoors.co.uk/15995584/nikwax-glove-proof-125ml-15995584